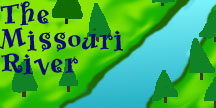 Shaina's logo for the River Quest home page.

Starting the research

fter they decided on topics, the team began their research. Nicole describes the process: "First, we had to gather our research and write a rough draft and then make a final draft and then we typed it up on the computer. And then we put all of the reports together on the Web page and then added other stuff to make the Web page more fun." According to Katie, they began in October and finished up around March, working one day a week for three or four hours. They did most of their research in the school library or on the Web.

Each month, however, the students would travel to the river for field work. Nick reports, "We measured how fast the river flow was: the flow rate. And we would take the temperature and try to catch some wildlife." According to Nick, they "got a frog and ... a moth and a snake skin." Other times, they simply observed the wildlife to help them create their reports and illustrations.

Nicole explains: "We drew our own pictures, except for the ones that David got out of the scrapbook." Enhancing the reports with graphics was a big plus for the team, but the site needed other design aspects as well.

Shaina says, "I did the part on steamboats and I was the graphic designer," which meant she "picked out the background colors and ... did the layout of the pages, like where to put pictures." She also created the logo on the home page of the Web site. The other team members liked having one person handle these design considerations.