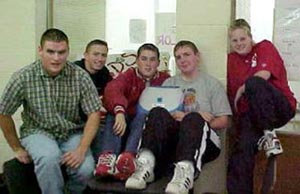 The "Fab Five" as they like to call themselves work together to make sure the district's computers are running smoothly each day.



e interviewed the five Tech Apprentices for the 2000-2001 school year, or the "Fab Five" as they like to call themselves. They told us about the experience and why they like the course. T.J., a junior said, "I really like this because in the future, society is going to based on technology. I consider myself lucky to learn this stuff now so that I'll be a step ahead of people in the future when technology is the dominant factor in society."

Each of the five students is scheduled to work during one of five hours in the school day. The first thing they do each day is go to Ms. Niles' office and look at the technology requests written on the white board in her office. Requests come in the form of e-mails, phone calls, notes, or students or teachers stopping by to let her know they noticed a teacher was having trouble printing, or that a computer in one of the classrooms needs to be checked.