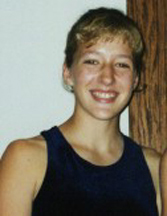 Andrea, who had never used the Internet before, researched basketball star Lisa Leslie.



ndrea agreed. She said, "I wasn't quite sure what we were going to do. But once we started getting into it, it was fun 'cause I'd never really got to look on the Internet before, and I didn't really know how to use it." Andrea and others worked hard to learn how to use the Internet quickly for research; after all, they only had a few weeks to complete the entire project. Andrea said, "It took me forever to find my stuff. I'd get something copied down on the computer, and then I'd come back and it'd be gone! I saved it too!"

Megan was also fairly new to the Internet. She said, "At first, I kind of got confused, and I was a little lost on what to look up to find certain answers, but I figured it out pretty quickly." One of the most important lessons she learned was how to recognize legitimate sites that could be used for her research. She said, "A lot of times, you can tell by what the site is, if it's by some person, or if it's by maybe a magazine or more of a business-type sounding [site]. And you can look at the answers, and if they don't match up with other answers you've found, then you know that probably some of the other stuff is not going to be true."